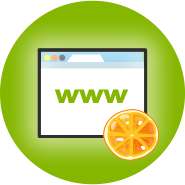 Domain Service & DNS
MandoraWeb offers a wide selection of Top Level Domains (TLDs) you can choose of.
Due to our registrarship of the most popular registries and long-standing experience in the field we can offer unmatched service for a large number of different TLDs.
Prompt and convenient domain registration!
Your desired domain name is registered promptly and convenient for you!
Additionally MandorWeb provides easy to use configuration tools, so that you can configure your domain easily for your needs.
Wide selection
MandoraWeb offers a wide range of different top level domains to choose from.
Check your desired domain name with our domain check
or see top level domain details in the alphabetical list above.
Domainservice & DNS
Highlights
TLDs
wide selection of international Top Level Domains
new registration
simple and quick
domain transfer
without downtime possible
IDN
internationalised domain names (IDNs) supported for many TLDs
Domain Data
Registrant and administrative contact is client
Proxy Service
available for many TLDs
DNS Servers
Strategically distributed fail-safe DNS server systems
Support
from experienced domain specialists
Server Plan
available with any MandoraWeb server plan