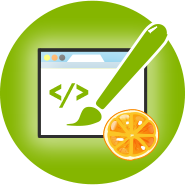 Website Builder Mandora.CMS
Mandora.CMS website builder and content management system enables users without special knowledge as well as experienced users to create a professional website within minutes.
Creating your website with Mandora.CMS is a piece of cake!
Are you able to create emails on your computer? Then creating your website with Mandora.CMS is child's play for you!
The user interface of Mandora.CMS is similar to that of modern word processing programs. Using the graphic web editor you can add your desired content.
Texts, images, multimedia, pdf documents, blog, guestbook, booking page, image gallery, own scripts for e.g. displaying a web cam or directions map, ...
Possibilities are almost inifinite!
You can edit your website using your browser only, without the need to run another application. Add pre-configured add-on modules like a RSS feed reader or an event calendar to your website with a click of your mouse. Required programming tasks will be performed by Madnora.CMS automatically in the background.
Mandora.CMS - for experienced users as well!
Mandora.CMS offers to experienced users flexibility and functionality of a modern content management system for easy and convenient creation and maintenance of a website. Mandora.CMS supports custom design templates, so that virtually any website can be created and maintained using Mandora.CMS.
Website creation made easy!
Mandora.CMS creates dynamic menus automatically and takes care for the correct creation of your hyperlinks and navigation menu. When adding a new page to your website, it will be automatically added to the navigation menu. You can sort the sequence of the menu items simply by dragging it to the desired rank with your mouse. Created HTML source code complies with modern industry standards and therefore provides ideal display performance even with different browsers.
With just one click of your mouse you can preview your website or publish your website live in the World Wide Web.
Service details Mandora.CMS
Highlights
Mandora.CMS
Website builder & CMS
User interface
available in English and German
Program use
browser based, graphic menues
Pages
max. 100 web pages, extendible any time
Menu items
freely definable
Navigation path
created fully automated
Website designs
350+ design templates included
Different designs
various design templates within one project possible
Custom website design
Custom design templates supported
CSS templates
Separation of design and content
Layout editor
for editing selected CSS templates
Own logo
freely definable
Own slogan
freely definable
Source code mode
for editing HTML source code of content
WYSIWYG mode
for editing content by clicking the mouse
Scripting support
for running your own scripts
Add-on modules
add dynamic components like e.g. image gallery, guestbook, formmailer
Website preview
check before publishing
Publish website
by a click of your mouse
Currently available Add-on Modules
Audio & amp; Video Gallery
add audio and video galleries to your website
Blog
add a blog to your website
Comments
add user comments to your website - with or without moderation
Download Center
add downloadable files to your website
Events Calendar
add a configuarable calendar to your website
Form Builder
add custom web forms to your website
Guestbook
add a configuarable guestbook to your website - with or without moderation
Homepage Hit Counter
add a configurable counter to your website
Imagegallery
add configuarable image galleries with AJAX functionality to your website
Contact Form
add a pre-defined contact form to your website
Map
add a configurable map to your website, e.g. for displaying your location
Members area
add a password protected area for your members to your website
News
add a configurable news area to your website
Newsletter
add a configurable newsmailer incl. opt-in for subscribers to your website
RSS Feed Reader
add RSS Feed content to your website
Random Content
stored content will displayed at random
Reservation form
incl. calendar and reservation enquiry
Slideshow
configurable slideshow incl. various cross fading effects
Tell a Friend
Visitors can recommend your site to others
Twitter Ticker
add Twitter Tweets to your website
Poll
adds a configurable poll form incl. reporting
Currently available SEO functionality
Basic SEO
general search engine optimisation
Keywords
add keywords for search enginges generally or for each page
Meta title
add page titles for search enginges generally or for each page
Meta description
add page description for search enginges generally or for each page
Meta tags
add meta tags for search enginges generally or for each page
Sitemap
automatic creation of XML sitemap for search engines
Documentation
Multi-lingual
admin area available in English and German
Manual
detailed manual in English and German available online
Instructions
Instructions and examples explained step-by-step
System requirements
Server Plan
available from Webserver Economy Startup and higher
Domainservice
any TLD possible
Browser
any common modern web browser
Online access
24 x 7 online access by web browser
Price
monthly fee
5,00 EUR *
incl. 19% VAT (DE)
one-time setup fee
19,99 EUR *
incl. 19% VAT. (DE)
plus fees for server plan and domain service of your choice
acc. price list
* Click here for further price- & tariff conditions.
Module base price per month incl. 0% VAT for United States for yearly payment in advance,
if applicable plus one-time setup fee as well as fees for domainservice and extensions of your choice.
Modules may be not available separately or not without other modules.
Prices may vary depending on residence of client and local VAT rates (directives 2006/112/EG and 2008/8/EG).
Final price of your desired configuration incl. residence-depending VAT will be displayed at completion of package configuration incl. all price components.
Prerequisite for use is a common personal computer including internet access, up-to-date web browser and state-of-the art security software (not included in price).
We reserve the right to update technical specifications in terms of product development and system security updates without further notice.
For detailed contract terms please see underlying terms and conditions.